Nov. 17, 2016
Significant Consequences for European Power Markets expected. Reduced risk of coal supply shortage.
Chinese authorities have now allowed all coal mines to return to 330 operational days per year again for the rest of this winter, following the previous reduction to 276 days per year from April 2016 onwards. The 20% increase of operational days will curb the price lift in coal markets and reduce the risk of coal supply shortage for coming winter months in China and also for the rest of the world.
In April the Chinese authorities capped the domestic coal supply significantly by reducing the number of working days. But coal-fired generation did not follow the same track downwards, due to higher than expected industrial performance, a warm summer in south-east of China with spiking air-conditioning demand as well as some supply disruptions due to flooding in northern part of China. The result was a surge in coal imports and spiking Chinese and also global coal prices. Then came the risk for Chinese coal shortage for the coming winter months, and additionally the French nuclear outages contributed to spiking coal prices.
Reversion in Three Steps
Chinese authorities have recently reversed their ruling from April in three steps: first introducing flexibility in the timing of coal mining within the 276 days quota, secondly allowing 800 mines to operate 330 days again and finally now allowing all mines to operate 330 days again. These steps have the goal to avoid supply shortages and curb spiking coal prices for coming winter months.
Coal and Power Price Outlook
The coal product Q1-17 has fallen from 86 to 72 $/t from last Thursday to this Thursday, a price cut of 14 $/t. The coal product Yr-17 has fallen from 77 to 64 $/t during the same period, a price cut of 12 $/t. We expect some more dollars downside risk from now, due to the combination of new Chinese ruling and no really cold winter temperatures in sight for Europe during coming 15 days.
Power prices for the German Yr-17 have from last Thursday to this Thursday fallen from 34.5 to 30.8 €/MWh, a price cut of 3.7 €/t. Power prices for the Nordic Yr-17 have during the same period fallen from 31.7 to 28.1 €/MWh, a price cut of 3.6 €/t.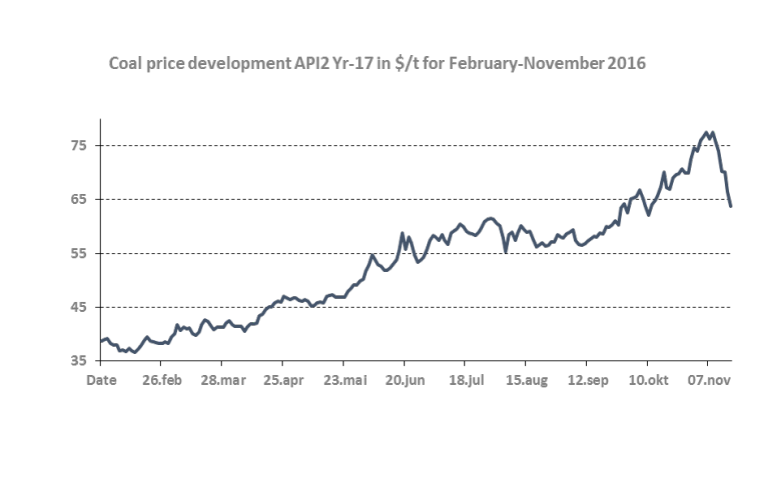 In cooperation with Perret Associates, we offer a comprehensive fundamental coal and freight market analysis with data monitoring and price forecasts for the whole curve as well as a wide range of products.