Last Friday the Dutch energy minister Eric Wiebes announced the early closure of the 650 MW Hemweg 8 coal-fired power plant by 1 January 2020 in order to meet the country's CO2 emission targets.
25% CO2 emission reduction target by 2020
In 2015 the District Court of The Hague ruled in the so-called Urgenda Climate Case that the Dutch government must take more measures against climate change and cut the greenhouse gas emissions by at least 25% by the end of 2020 in comparison to 1990 levels. 

As part of the measures to meet the CO2 emission targets, the Dutch energy ministry decided to bring the closure of the Hemweg 8 coal-fired power plant forward by five years to 1 January 2020. The closure could reduce the CO2 emission by up to 3.35 million tonnes based on emission data from the year 2017.

With the closure of Hemweg 8 the coal-fired capacity of the Netherlands is reduced to 4 GW. With coal-fired electricity generation banned from 2030 the remaining units face closure by end of 2029, while the older unit Amer 9 must be closed by end of 2024.


Marginal price increase of 0.5 €/MWh expected
The early closure of Hemweg 8 has a marginal price impact on the Dutch forward prices. The base load power price for 2020/21 is expected to increase by 0.4 – 0.5 €/MWh. As a consequence, power imports from neighbouring countries, in particular from Germany, would increase by 7 – 8 %, while at the same time power exports would decrease by 3 – 4%.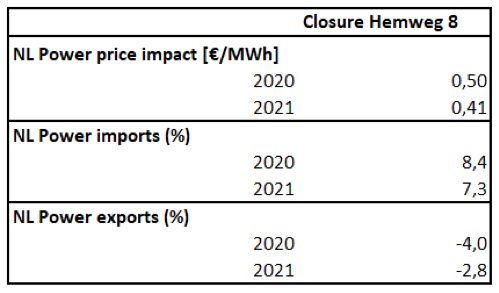 Central European Long-Term Price Prognosis
We provide continuously updated long-term outlooks up to 2045 on power prices, and underlying commodity prices for European countries. Click here to learn more about our product and request a trial.