Easter is not only an important religious holiday and a traditional vacation season in Europe. It is also one of the periods of the year during which the power consumption is strongly affected by the Holiday Effect.
The social patterns are different from country to country and reflect a variety of habits and traditions. For us the upcoming Easter is also a moment to reconsider assumptions made within our consumption system and represented by the reduction of power demand attributable to different behavioural patterns. You find some statistics below. Enjoy!
The Highest Total and Relative Impact
The highest absolute reduction of consumption due to the Holiday Effect can be observed in Germany, where from 24 March (Maundy Thursday) until 28 March (Easter Monday) 1048 GWh less electricity will be consumed in total. This number contributes to an average of 43,7 GWh/h and 15,1% of normal German consumption during this period. In the "competition" of total consumption reduction Germany is followed by Spain (total reduction of 461 GWh) and Italy (303 GWh). In terms of relative reduction, the second biggest effect is observable in Spain (13,1% of normal) and the third biggest in Denmark (11,9% of normal consumption).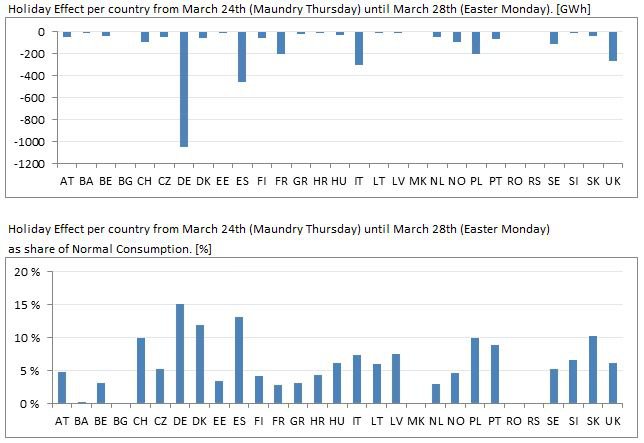 Impact of Single Days
If it comes to the distribution among the single days, the highest total reduction of consumption can be observed on Easter Monday (53,6 GWh and 13,1% of normal consumption in average of all countries) and on Good Friday (26,2 GWh and 5,9%) followed by Easter Sunday (13,4 GWh and 4,5%) and Holy Saturday (10,7 GWh and 2,5%).
Importance of Easter Days
Easter Monday is – relatively seen – the most important day in Poland, where it contributes to a 28,2% reduction of normal consumption. Also Easter Sunday has the strongest relative effect in Poland with 13,6% of normal consumption. Good Friday is – demand-wise – the most important day in Spain, where it cuts the power demand by 23,5% of normal. Holy Saturday has the strongest impact in Germany (10,8% of normal consumption), while Maundy Thursday in Denmark (17,1%).
A Cross-Regional View
The graphs below present the distribution of the Holiday Effect between the price areas, as we define them on Wattsight, allowing an interesting cross-regional comparison. The first chart gives absolute figures in GWh, the second a relative view.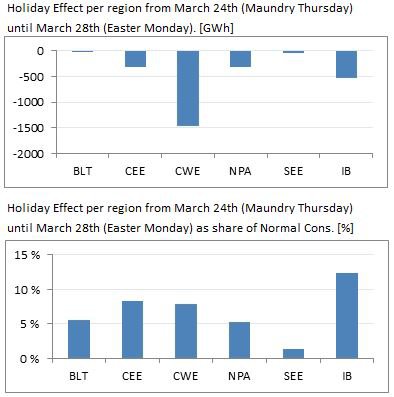 Conclusions
The Easter holidays have a massive impact on consumption reduction among European power markets. Absolute numbers are notable – a total estimated reduction in electricity consumption in Europe due to the Holiday Effect contributes (in the mentioned period Maundy Thursday to Easter Monday) to impressive 3,27 TWh! Relatively seen the impact of the Holiday Effect can reach up to 28% of the normal power demand of a day.
We track these effects on the level of individual markets and includes them as an important input in the consumption model Europe-wide. This year our models also handle the shift in profiles due to daylight saving, commencing on Easter Sunday.