Sept. 22, 2020
Awareness of strong GHG emission cuts towards 2030 has had a significant effect on carbon pricing over the last years. EU lawmakers are shaping its 'Green Deal', being a comprehensive plan of making stronger emission cuts by 2030 than outlined before.
The European Commission has just presented a long awaited impact assessment, where 'at least 55%' GHG emission reduction by 2030 relative to 1990 levels has been unveiled. Given large uncertainties with the political processes ahead of us, a new carbon price driver is emerging.
EU-28's GHG emissions comprise both emissions from traded sectors and non-traded sectors. The traded sectors are mainly power/heat and industry installations, administered by EU Emission Trading Scheme. The non-traded emissions, comprising transport, households, agriculture, etc. are handled by the Effort Sharing Regulation; an arrangement where EU lawmakers have levied all EU member countries individual 2030 emissions reduction targets for their non-traded emissions.
Totally, in 2018, EU-28 reached a GHG emission reduction of -27% relative to 1990. Official figures for 2019 are not disclosed yet, but we expect it to come out at -29%. The entire 2 percentage point year-on-year change is entirely carried by the EU ETS sector, where approx. 150 Mt of emission decline arose from weak industry performance and hard coal/lignite to gas fuel switching in power generation.
The prevailing 2030 GHG target for Europe is 40% relative to 1990 level. According to findings from a 2019 report published by the European Environment Agency, it was found that based on current policies and measures, a 30% GHG reduction can be reached by 2030, while with additional measures and policies to be launched, a 36% reduction can be obtained by 2030.
Since back then, some things have changed, first and foremost hard coal to gas and lignite to gas fuel switching outlooks. This is going fast, and coal closures announcements have been reported frequently the last years.
In its Impact Assessment report, the European Commission finds that a 41% GHG reduction by 2030 will be delivered across EU-28, based on the projections from various domestic long term climate and energy plans for all the member states.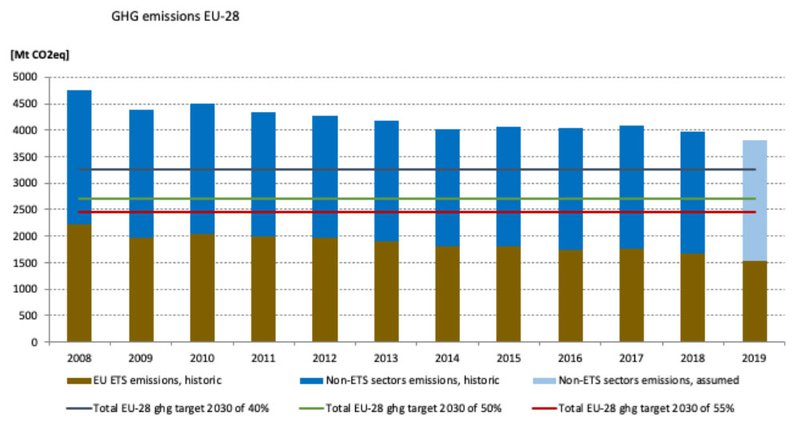 Nevertheless, the proposed 55% target appears to be very difficult to achieve in a matter of only ten years, when assessing emission development since 2008. Most of the hard coal to gas fuel switching potential is exploited already, and it is also important to bear in mind that some of the emission reductions stem from weak industrial performance.
Looking at our prognosis of total 2019 GHG emissions in the chart, compliance with a 55% target will require emission reductions of some 1300 Mt CO2eq. The reduction will be balanced between traded and non-traded sectors. It will certainly affect the supply side of EU ETS.
We understand that formally, changes will be proposed only in June 2021, and after that, negotiations in EU divisions will be carried out. So, it will take perhaps as much as two years until we see the final change to the current 40% target.
Until then, uncertainties and speculations to the final result will probably often serve as an important short to medium term price driver. This has already proved important to market prices, as prices rose to above 30 euros with the 'at least 55%' news, before easing down to 28 euros a couple of days later.