Jan. 25, 2018
During the winter of 2016/17, we experienced an extremely low snow package level across the Alpine and Central Western European region. This winter turns out to be the opposite with nearly 30 TWh higher snow level than last year.
Alpine Snow Chaos 
The precipitation during January has been extremely high, we have seen flooding incidents due to rain and melting in the lowland, and Alp villages isolated from their surroundings due to snow chaos and avalanches. In some areas in Switzerland, the snow package is the highest since February 1999.

Hydrological Situation Close to Record-breaking
The January precipitation for the CWE region will come out close to 27 TWh, which is about 210% of normal (+14 TWh) and about 20 TWh higher than in Jan-2017. We estimate the snow and groundwater level to be about 30 TWh, which is 13 TWh more than long-term normal and 27 TWh higher than last year.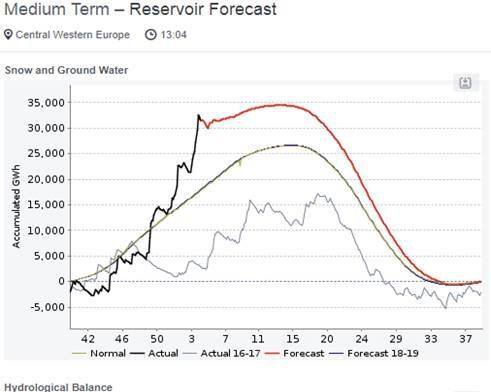 The current snow level is 6 -7 TWh higher than estimated in winter 2013 which had the highest hydropower production since 2003. Based on normal precipitation the rest of 2018, the hydro production 2018 is forecasted to come out at about 155 TWh which is close to the 2013-level. 155 TWh is 15 TWh above long-term normal. Probably some of the snowmelt will exceed the production capacity in several plants, so the net production will come out some TWh lower. See chart below for the production curves until end of Q3.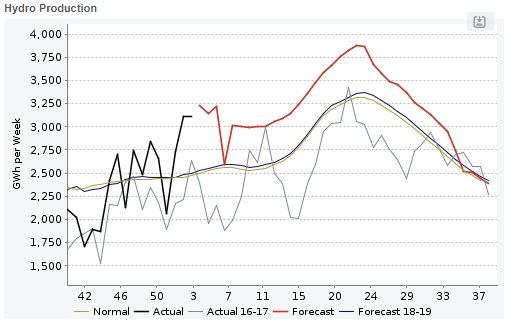 Impact on Power Prices 
The strong hydro situation in combination with mild temperatures, strong wind, and increased French nuclear production, had a very bearish impact on the spot-prices and FWD-market until Q2-18. The February-prices for France and Germany have declined about 10.0 and 5.0 €/MWh respectively since New Year, the impact on Q2-price has been – 3.0 €/MWh for France and – 2.0 €/MWh Germany.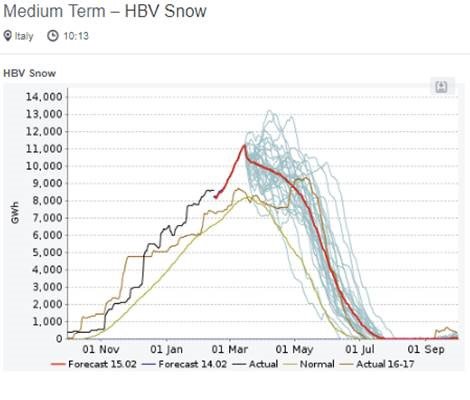 Wattsight will follow the situation closely during the winter and keep you up to date. Contact our Sales team if you want to test our "Power Market Fundamentals" or visit our stand at E-world.