Dec. 16, 2016
4th lowest level in 80 years observed
The snow levels are low in most parts of the Alpine region these days according to snow curves at Wattsight. In Switzerland, there has been made an observation at a 2400m altitude that confirms the 4th lowest in the past 80 years!
The snow levels across the CWE-region are currently 12 – 13 TWh lower than normal, see snow curves from Wattsight below. The snow levels were very low last year too, but the situation improved strongly during Q1-16. The question is, will this happen again?
We have Checked the Recent Precipitation and Snow Situation.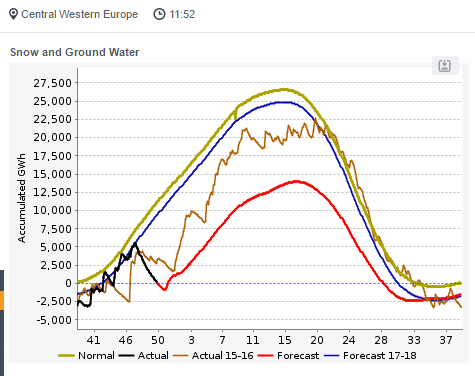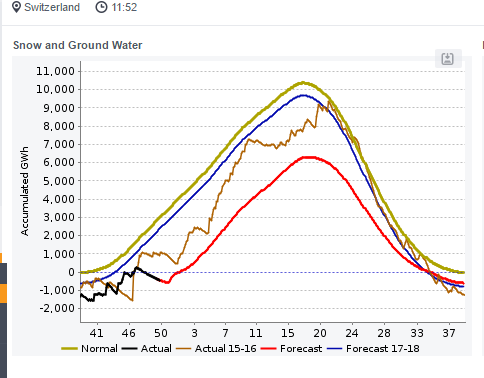 The precipitation during Nov+Dec (my latest weather forecast) will come out at 63% for the CWE-region and 53% for Switzerland. These are close to 2015 levels, the main difference is France which comes out a bit better this year than in 2015. The snow situation is extremely low, and for the CWE-region as a whole about 13 TWh lower than normal.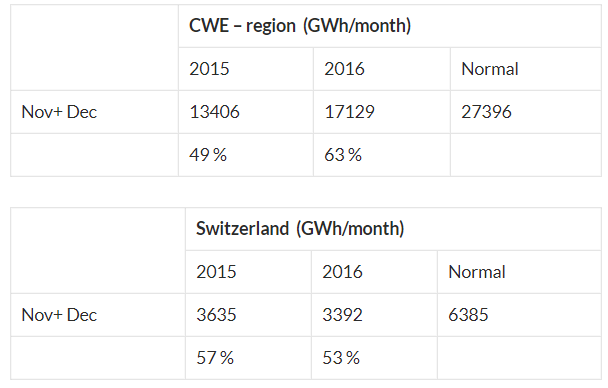 Outlooks for Q1-2017
The snow curve for CWE-region shows that the 2017 curve will by normal precipitation level reach it's maximum by end of April (week 17) at about 14 TWh. This is about 13 TWh lower than normal so the current deficit will not be improved by normal weather conditions.
If we look at the 2016 curve, we see that the difference to the normal curve was strongly reduced from week 50 until week 17. At week 17 2016 the CWE snow level was about 21 TWh, only 5 TWh lower than normal.
So during Q1-2016 the snow deficit was reduced by about 12 TWh, and this was because of precipitation levels strong above normal during the period. Precipitation during Q1-16 came out at about 11 TWh higher than normal, which is 30% stronger than normal. In our estimate for Q1-2017 we assume normal precipitation, which is 11 TWh lower than 2016, and thus our estimate by end of April comes out so extremely low. And if precipitation during Q1 turns out lower than normal, then the situation will be even more extreme.
By current snow-deficit we see a reduced hydropower production of 3000 – 4000 MW during Q2 and Q3, and the situation can be even worse by a dry Q1-scenario.
Wattsight will update you on the CWE hydropower situation after New Year.
Eylert Ellefsen
Head of Continental Analysis