Oct. 31, 2016
The nuclear situation has escalated during October due to additional security checks and several extended ongoing outages. Currently there are 19 French reactors on outage.
In the chart below we show how outages during October have escalated. The actual production capacity during October comes out at 39 GW as an average, which is 6 GW lower than official UMM information was showing 14 days days in advance.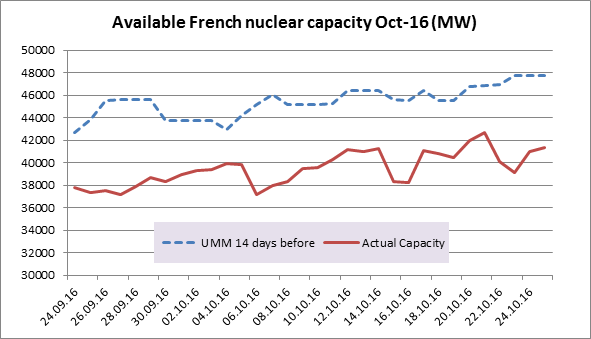 In our blog of Sept 30th we assumed that capacity during Q4 would be reduced by about 5000 MW compared to official EDF-information, and this is exactly what happened during October, see chart below. In general the outlooks for Q4 and Q1 is close to 5000 MW lower than normal due to these extraordinary outages. We assume that outages for Q1 will be influenced from prolonging of outages from Q4 and some more plants to be checked as well.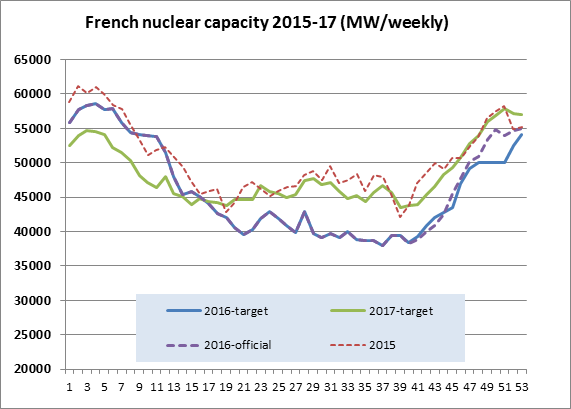 Spot and Forward prices have spiked as new information about nuclear outages have been published, see chart below. Friday's close for Q1-17 Base France was 75.60 €/MWh. The German market will mainly see bottleneck to the strong French market this winter, and prices have mainly been following fuel-prices. We see however stronger increase in German Q1 prices lately, as for days with low windpower during the winter Germany will see Frence prices when the market are coupled during peak-hours.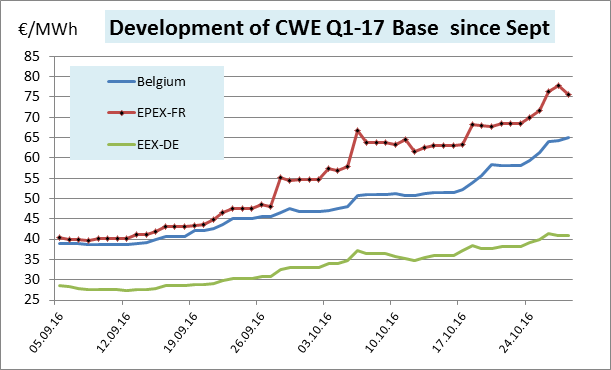 You can read more on our CWE FWD webpages. We will follow the situation and update the models on new nuclear information.
Feedback would be appreciated.
Eylert Ellefsen
Head of Continental Analysis