Jan. 28, 2019
In the final report published on Saturday, the government-appointed coal commission suggests a substantial reduction in coal and lignite capacity by 2022. Read more how this will impact power prices in the years to come.
Impact on coal-fired capacity
The coal capacity which currently stands at 21.8 GW should be reduced to 15 GW. Until 2022 already 2.3 GW of coal-fired plant capacity is filed for closure with the Bundesnetzagentur (BNetzA) and with the start-up of Datteln 4 around 1 GW will enter the market. Hence, a total capacity of 15 GW coal by 2022 would results in additional closures of 5.5 GW in comparison to the current decommissioning plans.
Impact on lignite-fired capacity
For lignite, the report suggests a capacity of 15 GW by 2022 as well. Available to the market is currently 18.9 GW with 0.8 GW to be placed in the climate reserve during 2019. Hence, the expected capacity available to the market is 18.1 GW by 2022. A reduction to 15 GW would mean additional closures of 3.1 GW.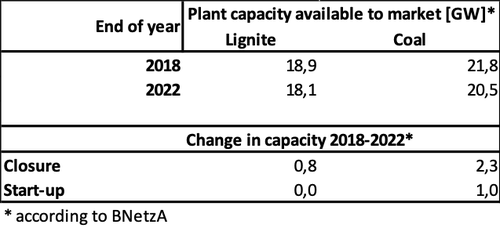 Price increase of 2.65 €/MWh expected
To estimate the impact of the proposed reductions simulations have been performed for 2023 assuming that during this year only 15 GW of coal and lignite each are available. When removing 3.1 GW of lignite capacity German base power prices are expected to increase by 1.32 €/MWh, which is 0.43 €/MWh per GW lignite reduced. When removing 5.5 GW of coal capacity power prices are expected to increase by 1.47 €/MWh, which is 0.27 €/MWh per GW coal. Because lignite power plants usually run on baseload the price sensitivity is higher than for coal units. In total, the impact of reducing the coal and lignite capacity to 15 GW each is expected to result in a price increase of 2.65 €/MWh.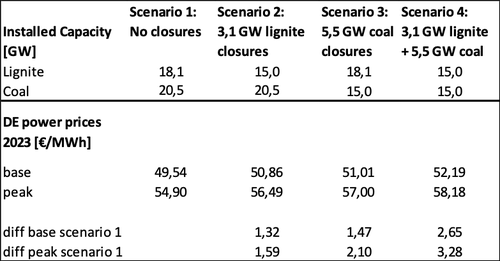 Wattsight long-term price prognosis for Central Western Europe
We provide continuously updated long-term outlooks up to 2045 on power prices, and underlying commodity prices for European countries. The next report which includes, among other countries, Germany, will be released on February 14, 2019. 
Questions
Get in touch with Senior Analyst Dr Carsten Trapp.