Nov. 28, 2019
While, October 2019 was the warmest October month on record according to EU´s Earth monitoring service, it seems like November is pushing for the wettest month, at least for countries in southern Europe.
High Temperatures Replaced by Massive Precipitation
So far, November has been unusual wet compared to the latest 10-year period and many regions report more than 150% of normal November precipitation levels (see Figure 1 from Austria below). Naturally, the massive amount of rain and snow have significantly altered hydrological balances of many countries. We will take a quick look into some of the implications of the wet outcome of November below. 
Figure 1: Observed precipitation amounts in percentage when compared to a long-term average of at least 10 years.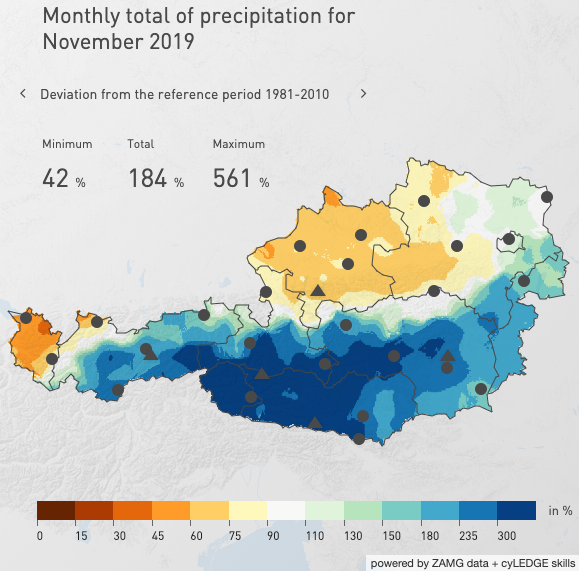 CWE
Hydrological year 2019 started with a deficit in hydrological balance for CWE at around 4 TWh. However, everything has been turned upside down since then. At the end of November, we expect the hydrological balance for CWE to show a surplus of more than 9.0 TWh compared to normal conditions. At this point in time last year the hydrological balance showed a deficit of around 8 TWh. CWE received during the latest month about 11 TWh more precipitation energy than normal, corresponding to about 170% of normal precipitation energy. Looking at November 2019 in a historical perspective for CWE, IB and IT, it has by far been the wettest month for the last 10 years (see figure below).
Figure 2: Historical precipitation energy for November during period 2009-2019 for CWE, IT and IB. Normal for IB and IT is almost similar so a combined normal is used.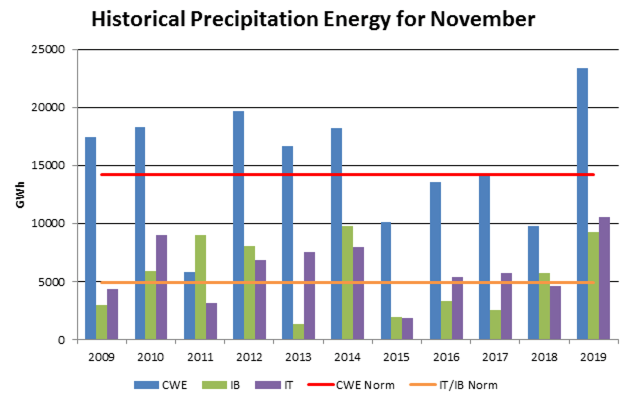 Snow depth observations for southern Alps also indicate snow conditions well above normal according to the latest snow map from SLF.ch (see Figure 3 below). The southern most parts of the Alps show more than 170% of normal, which translate to between 1-2 meters of snow already. What this means in terms of energy can be seen on app.wattsight.com in our HBV representation. 
Figure 3: Observed snow depth in percentage when compared to a long-term average of at least 10 years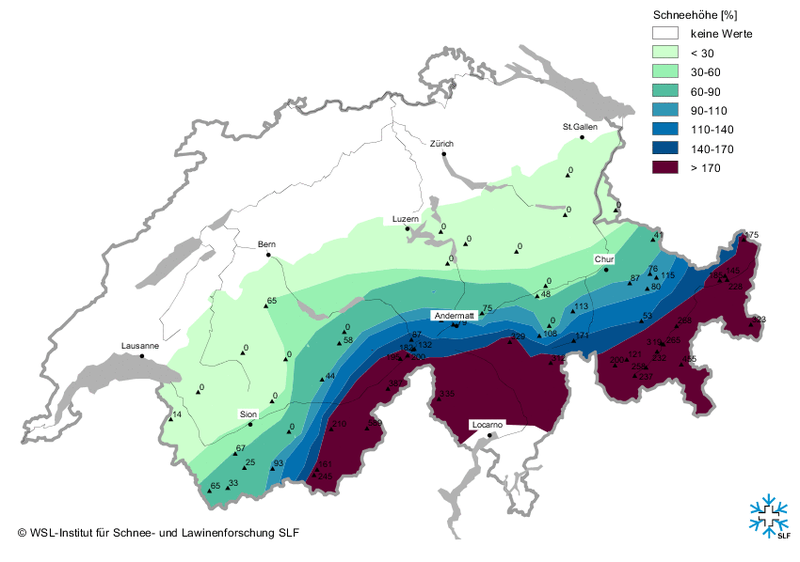 Italy and IB
Italy has had significant problems with flooding and mud-shed during November, especially in Venice. However, many other areas in Italy have suffered from massive snow and rainfall (see articles here dw.com, theguardian.com and neveappennino.it). Our models indicate that Italy received about 200% of normal precipitation in November, making it the wettest November in 10 years. See Figure 2 for more information. Iberia has during the majority of 2019 suffered from dry conditions with very low production levels as a consequence (Figure 4 below). But after torrential rainfall in November (refer to accuweather), the hydrological balance is finally back to normal levels and production levels has increased towards the normal.
Figure 4: Run-of-river production history for Spain for the last year. More info on app.wattsight.com.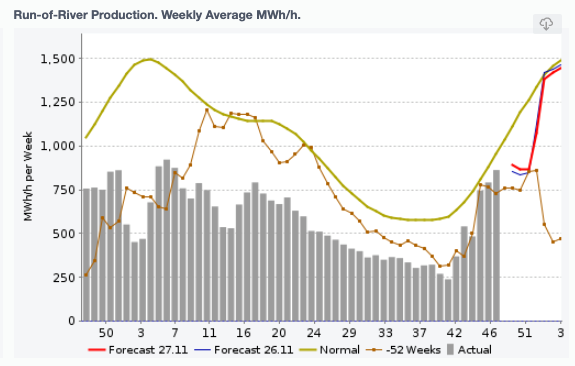 Joakim Blakstad, PhD
Lead Meteorologist/Hydrologist