Jan. 13, 2017
In some locations, it has been observed close to all-time low snow levels the past 80-100 years.
In our blog of Dec 16th, we focused on the extremely low snow levels in the Alps. In some locations, it has been observed close to all-time low snow levels the past 80-100 years. There was a similar situation in December 2015, but during January and February, the situation improved a lot due to torrential rains- and snowfall across the Alpine region. Current outlooks for 2017 are different, there has so been no improvement in the snow situation and present cold outlook results in strongly reduced hydro-reservoirs as well. We will in this blog focus on the actual hydrological balance across CWE, outlooks for hydropower production 2017 and finally a view on the market reaction on the low hydropower resources.
Hydrological Balance
Hydrological balance across CWE shows currently about 20 TWh deficit, of which snow reservoir is nearly 15 TWh lower than normal. Below you see a chart copied from Wattsight hydrology section which gives the updated overview. The hydro reservoir levels are declining the due to reduced inflows and a rather strong production due to the cold snap next week. Thus we expect that the steady production has to be adjusted downwards in a couple of weeks. In Switzerland, the reservoir situation is very sensitive due to reduced nuclear capacity, and 2017-situation can be even worse than the 2016-situation which was saved by mild weather during Q1. This is so far not the case this year.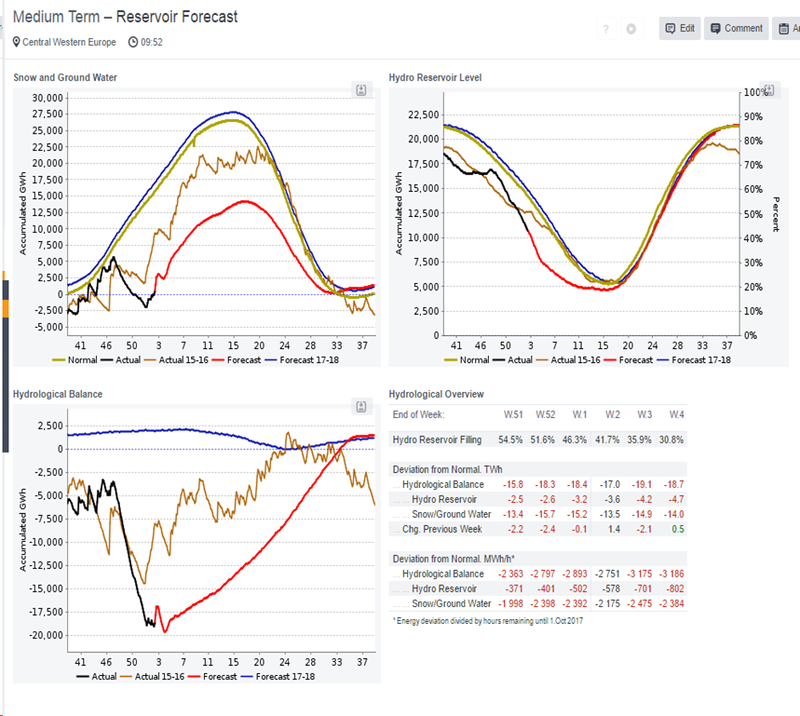 Production Outlooks for 2017 and Market Observations
We assume that the hydro reservoirs will normalise during Q3, which means that the summer production will be adjusted to the inflows. See charts above to follow the forecasted development in hydrological balance and snow/hydro-reservoirs.
This means that a hydrological deficit of about 20 TWh has to be met by an according reduction in production. Most of the reduction will be made during Q2, but we expect reduced production during rest of Q1 as well, see chart below.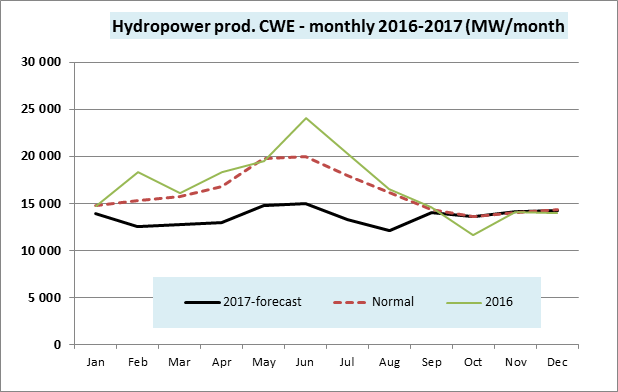 The forecast is based on inflow adjusted for the snow deficit, and we see close to 5000 MW reduced production during May-June. Normal curve and 2016-curve is shown as comparisons. Production for 2016 came out 6 TWh higher than normal, while forecasts for 2017 is as mentioned 20 TWh lower than normal (-15 %).
What about the market, is it possible to observe market reaction due to the current hydropower situation? We have checked the market movements for Q2-17 for Germany and France since the start of December, see chart below.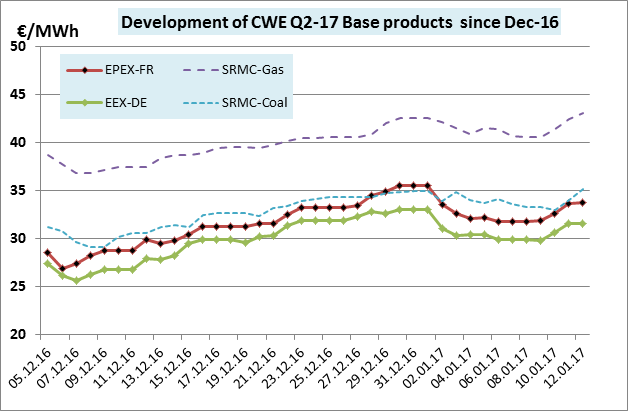 The market movements for Q2-17 Germany/France are partly well correlated to changes in SRMC Coal and Gas. This is what to expect if the power balance situation is unchanged. We see that Germany/France are traded nearly in parallel, this is also to be expected as Germany/France are strongly linked to each other during Q2/Q3.
We see however that the difference between Q2-products and SRMC Coal is nearly unchanged since the start of Dec-16. The difference Q2-Germany and SRMC coal by the start of Dec is about 3 -4 €, and this is still the difference by mid-January. During this period the hydrological balance has declined nearly 15 TWh, and without any significant change in the difference
power price-SRMC.
It might be the case that coal prices are from the hydro reservoir hydro, but normally this is not the case. Thus we believe that Q2-prices across CWE have an upside potential due to reduced hydropower production this summer. Maybe the focus on the small hydropower situation will be stronger during February as the hydro reservoirs then will be very low as we see it today.
We will follow the very low hydropower situation during Q1 and updated blogs will be published on monthly basis.