Jan. 15, 2019
Since Christmas weekend we have seen extreme snow conditions in the Austrian, German and the Swiss Alps. Due to a strong wind from the north, the so-called "Nordhang"-areas have been hit by extreme snow levels. However, the regional differences are high.
The southern parts of the Alps have snow levels significantly below normal. Neither France or and the western parts of Switzerland have been affected by the wind from the northwest. Several areas in Austria, Switzerland and Germany, on the contrary,  have been more or less isolated and avalanche-warnings have been in at the highest level in some regions.
In this blog, we will explain the situation from a hydrology point of view and how we have calculated the snow levels in the HBV-models. Notice that in this situation we see very strong regional differences between the northern and southern parts of the Alps, and despite this higher uncertainty than normal, we are calculating the snow-package on a national level.
Precipitation Since Christmas Across the Alps
In the table below, you see numbers for energy precipitation on a national level according to Wattsight models. We see very clearly the differences how France and in particular Italy has not been hit by this weather pattern, while AT, CH and DE are 200%-240% of normal. We see from the observed data on the single locations the significant differences across the Alps 
Precipitation energy

From 20.12.18 to 13.01.19           
  
Observed precipitation on locations

From 20.12.18 to 13.01.19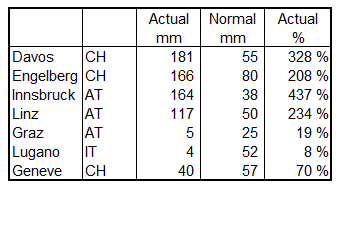 Snow Package and Avalanche Warnings
Meteorological institutes in the regions are updating the snow package-levels and avalanche-warnings. Below you see a snow chart for Switzerland (source: www.slf.ch), which indicates the very strong levels in the eastern parts (Graubünden) towards the Austrian border.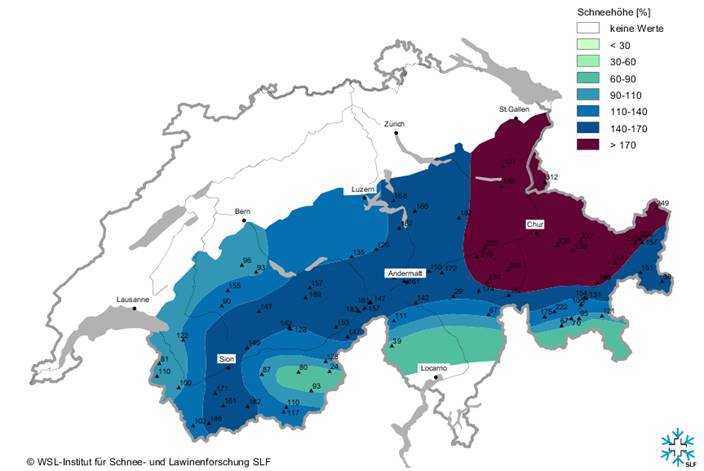 In the chart below for Austria (source: www.zamg.at) we see an avalanche-warning chart that indicates the highest warning signals along the Alp ridge.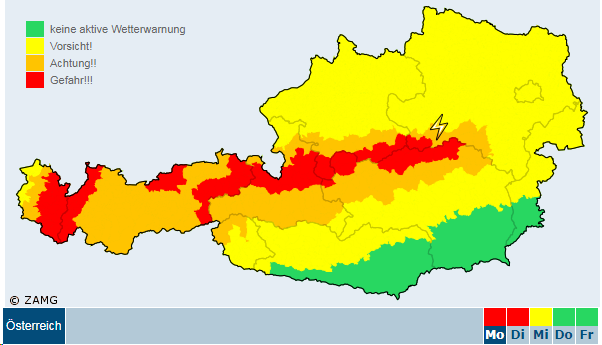 From the HBV-model Wattsight is estimating the snow levels, and below you see the updated reports for AT, CH and IT.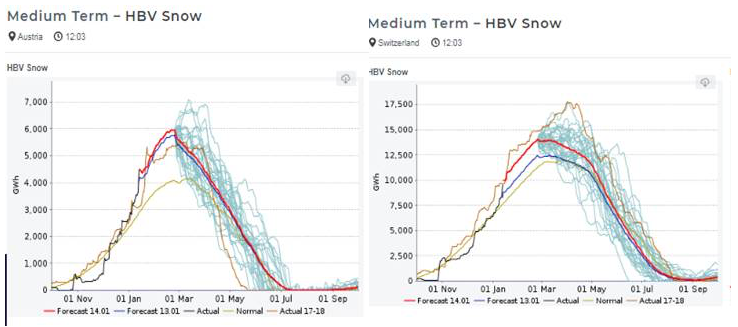 For Austria and Switzerland, we estimate 50% and 35 %, respectively, higher snow package than normal. In total, this means 4 TWh more than normal. Precipitation outlooks are today a bit wetter normal, so the snow-surplus will continue to grow the next days.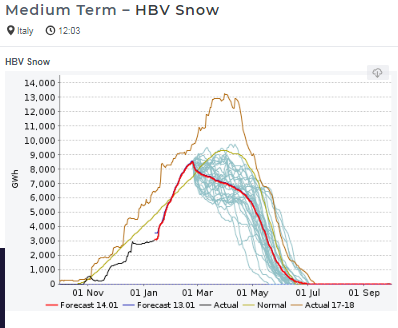 For Italy, we see a different picture, as the precipitation lately coming from the northwest has not reached the southern Alp and see a snow package deficit of about – 40%. 
Final Comments
 Wattsight will follow this extreme alpine situation the next period, and we will then give an overview of what this snow package will means for hydropower production during the melting period in the spring and summer. 
Please contact us if you have any questions  
Joakim Blakstad, Ph.D.
Senior Meteorologist/Hydrologist
+47 977 51 254
jbl@wattsight.com
Eylert Ellefsen
Senior Analyst
eel@wattsight.com