Jan. 16, 2017
Spot prices are currently increasing heavily in the SEE area as the hydropower situation is getting extremely scarce these days. The weather outlooks are dry too, so this situation will at least persist towards the first part of February. We already published a blog story of the situation and focused on hydrology/hydropower and market prices (Spot/FWD).
1. Hydrology and Hydropower
December came out extremely dry with only 10% of the normal precipitation and the river flow along the Danube has decreased from normal to currently bout 30% of normal, see chart below. The current level is even lower than 2012-level, which was the previous "lowest-level" wintertime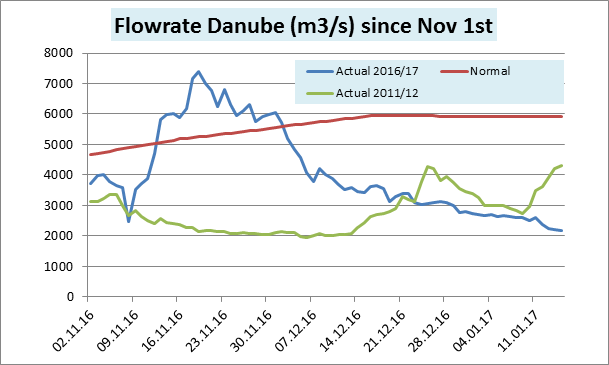 The hydropower production, representing about 30% of the total power supply in the region, has been reduced accordingly, see chart below.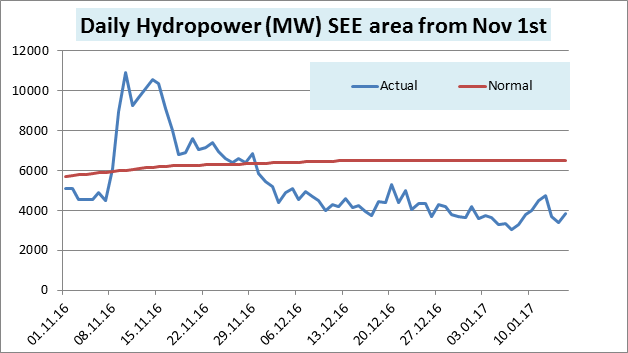 We see how hydropower has been reduced from about 10000 MW/day towards current level of about 4000 MW (60% of normal). The water reservoirs in Romania are declining strongly as well but has so far supported the total hydropower production. If precipitation continues to be low, the reservoir production has to be reduced even more so there is, of course, a further downside in total hydropower production in a month's perspective.
2. Market Prices – Spot and February Contract
The chart below shows the weekly spot prices from start of November until last week. We will focus on the difference HU-AT (Hungary-Austria) and HU-RO (Romania) in this period. From start of December when the hydropower declined below normal levels, the HU-price increased compared to the AT-price, as we usually see in such "low-hydro"-situations.
We see that the RO-price increased a bit delayed compared to the HU-price, probably because of support from the reservoir production when flow rates along the Danube fell during December.
Since New Year spot prices across SEE-region have increased strongly, still RO-prices remained lower than HU-prices. Last week (w. 2)  was especially critical in the SEE area, as temperatures dropped to -20 degrees Celsius in Romania and Bulgaria during some night hours and the governments had to deploy emergency measures to evacuate remote villages where people were left without electricity and heat. Consumption reached historical levels of 8.2 GW in Romania, while in Hungary demand spiked up to 5.7 GW on Tuesday. Moreover, Greece blocked the power exports to all neighbouring countries for two days due to network security reasons. Prices spiked up to 224€/MWh in peak in Hungary and in Croatia on Wednesday.
The emergency measures might be prolonged during this week as freezing temperatures are further forecasted in the region. The conventional thermal plant's availability should also be carefully followed, as the Romanian nuclear reactor Cernavoda has been stopped already two times since the beginning of this year, as a result of the heavy snow storms. These unplanned outages might have an enormous impact on the very sensitive spot prices at the moment.
Tuesday's (17.01.17) spot price came out at 89.95 €/MWh in HU and weather outlooks are still bullish. Romanian spot prices came out at 72.83€/MWh, almost 6€/MWh lower than today, although the wind power output is expected to more than double compared to Monday.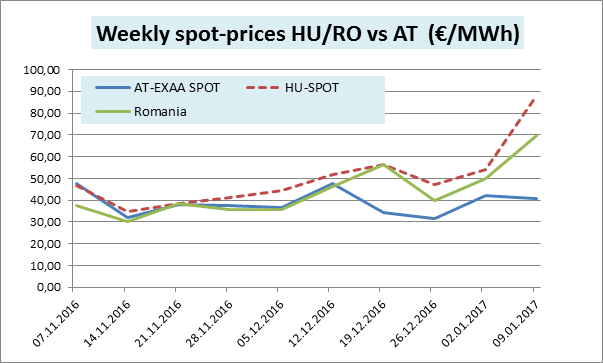 Apart from spot price development, it is interesting to see the market movements for February-contract (Month Ahead), see
the chart below.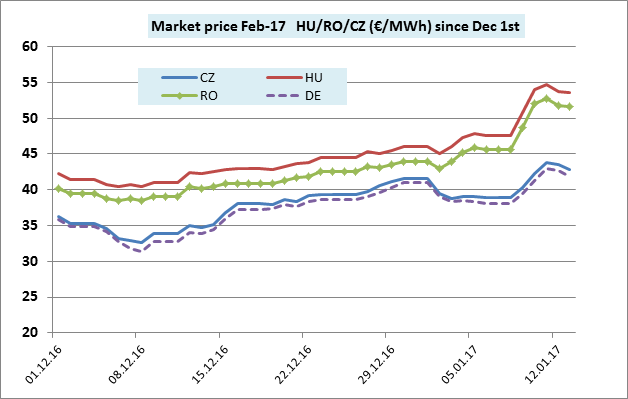 We see how Feb-17 has been bullish since first of December for all areas, but CZ/DE are influenced from the CWE-market. RO/HU have been moderately bullish until last week when the market prices jumped by 7 – 8 €/MWh.
The current Feb-17 level is in the range 50-55 €/MWh, we see a potential upside towards recent week-prices, that will mean market prices close to 70 €/MWh within short if the bullish weather trend persists.
Wattsight will follow the situation closely the next period, see our daily spot- and hydrology reports. Besides, we will give you and updated blog first part of February.
On behalf of the Continental analysis team
Eylert Ellefsen
Anamaria Toebe