Jan. 28, 2020
While we observe that hard coal to gas fuel switching prices are persistently decreasing, which has caused tremendous hard coal to gas fuel switching in thermal power generation across Europe in 2019, we acknowledge that a new bearish factor for the CO2 market has emerged over the last couple of months: the phenomenon of lignite to gas fuel switching prices more and more often falling below carbon prices. It is the ongoing combination of quite high EUA prices and low gas prices that enables this. 
Expressed in another way, we see SRMC gas (referring to CCGT, 52% plant efficiency) being at some 35-37 €/MWh for all months till September 2020. We consider SRMC lignite, where the significant carbon cost induced by quite high CO2 prices, by far is the most important cost, being the major reason for SRMC lignite being in the 35-37 €/MWh as well. The 35-37 €/MWh assessment is subject to many uncertainties and comprises an assumption of fuel/other variable costs in the 5-7 €/MWh range.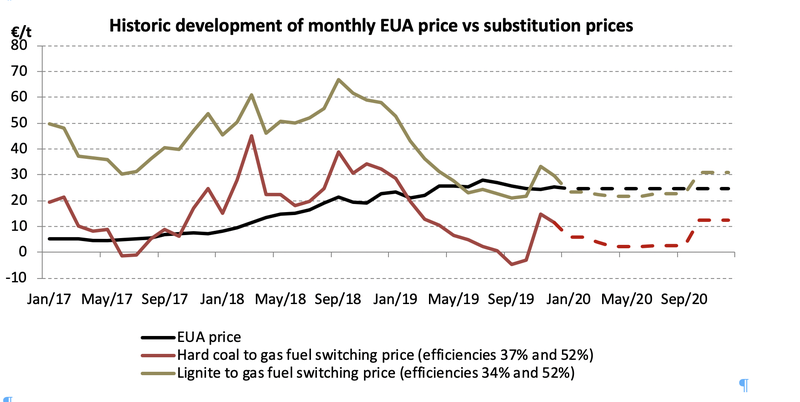 Lignite fired power generation has traditionally been part of the generation mix in Germany, Greece and most Eastern European countries, and we have for these countries over the last six months been witnessing gas' share in thermal power generation had risen on the expense of lignite. 

The switch to the less dirty fuel has led to emission reductions during 2019 and will do so also in 2020. Due to the forward market prices often aligning these two technologies, our emission forecast for EU ETS for 2020 have been revised down by 25 Mt. 

We currently expect carbon prices to drop to 22 €/t during the coming months.