Aug. 21, 2018
The South-Eastern Europe (SEE) region is strongly dependant on hydropower. The Iron Gate power station in the Danube River is, for example, the largest hydropower plant in the EU. Since 2010, Wattsight has provided hydrological products for the SEE region by publishing daily updates of precipitation, inflows, and production. Now, we are taking our modeling approach to a new level.
HBV Modeling, the Most Powerful Engine in Hydrology
Improved transparency across the region has gradually improved the quality of our models in the last years. Therefore, we are currently improving the SEE models and intend to introduce the HBV hydrology modeling approach, the same we already use for the Central Western Europe and Nordpool region. For you as a customer, this means prolonged inflow and production forecasts in general and a stronger focus on a Month Ahead forecast in particular. 
Modified Precipitation and Water Flow Models
As a first step towards HBV-models and prolonged forecast-periods, we have modified the precipitation and water flow models. As we have collected data since 2010, we have benefited from eight years of statistics. In addition, new measurement-stations improve the models. 
Today, we have launched the new precipitation models for the SEE-countries Serbia, Romania, Croatia, Slovenia, Bosnia-Herzegovina, Macedonia, Bulgaria, and Greece. 
Later this week, we will launch the modified water flow models for all these countries. For most of them, we receive weekly updates of reservoir fillings, which improves both the historical data and the short-term estimates of the inflows.
New Model - Same Layout
Below you see the charts of the daily updated Precipitation and Inflow reports. The layout of these reports will not be changed when the new precipitation and water flow models are introduced, but the numbers will be changed in accordance with the new models. Later on, when the HBV-models are introduced, the reports for inflows and production will be harmonized to the CWE-layout. The forecast horizon will be in accordance to the EC-forecasts (15 days).
We are aiming of introducing the HBV-model concept during September, this will mean another huge improvement in the SEE hydrology reports from Wattsight.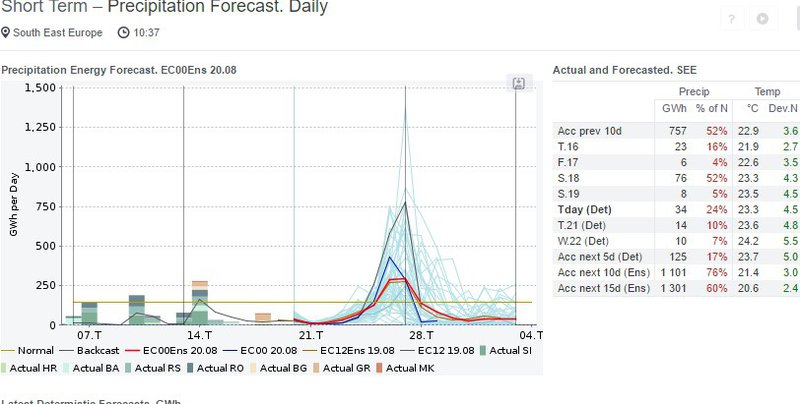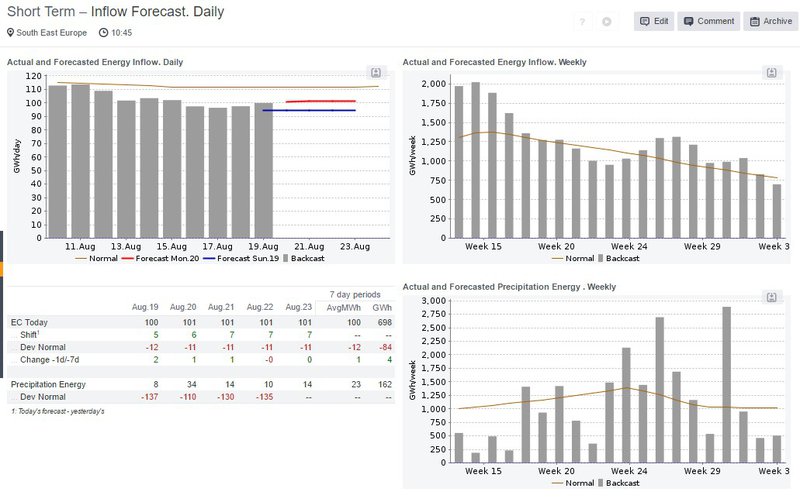 Best regards
Eylert Ellefsen (Head of Continental Analysis) and Joakim Blakstad (Senior Meteorologist/Hydrologist)

Lacking access? 
Please  click here to request trial access to our hydrological data.