We are happy to announce that we are launching a new and enhanced version of our weather maps application. With the new application, we have improved and added functionality, giving our customers a better user experience.
Added functionality
The weather maps application allows for looking at and comparing weather forecasts from the two leading global weather models from the European Centre for Medium-Range Weather Forecasts (ECMWF) and Global Forecast System (GFS). The maps can be played in three different resolutions, showing temperature, precipitation, cloud cover, wind speed and solar radiation for Europe and sub areas.
In this new version, we have added two charts below the maps. The chart to the left, the main chart, shows forecast data for a chosen area. The chart to the right is a difference chart, showing the difference between the main chart and the cumulative sum.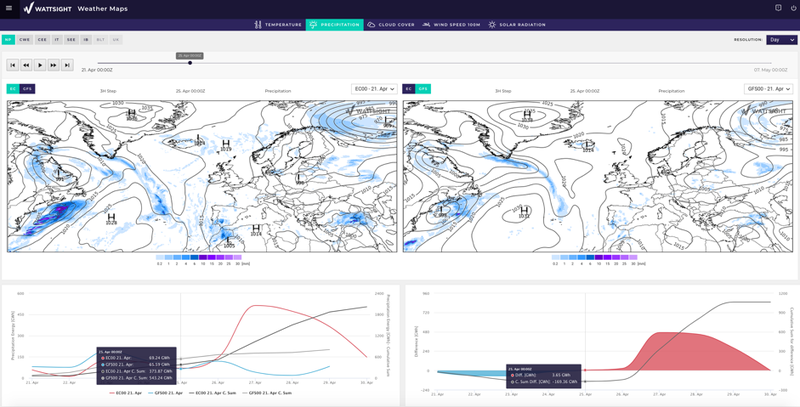 In the figure above, the main chart shows precipitation energy according to the latest ECMWF and GFS model runs for NP for 9 days ahead, including cumulative sums. The difference chart shows the difference between the latest ECMWF and GFS runs, together with the cumulative sum. When clicking on either of the charts, the map for the corresponding time step will be displayed above the chart.
Improved user experience
In addition to new functionality, we have also improved the user experience by taking into account various feedback from our customers on the old version. We have expanded the projection of the maps so that it now covers the whole life cycle of low-pressure systems impacting Europe. We have also made the colouring more intuitive.
Additional improvements and feedback
We are currently working on improving the weather maps application even further, and we will update you on any new development and new functionality. If you have any feedback on our new weather maps or suggestions, we would love to hear about it. Feel free to contact us on it@wattsight.com.
Click here to access Weathermaps (for customers) or request trial access here.