Nov. 3, 2016
In our blog of October 31st we gave an update on the strained nuclear situation in France. The nuclear capacity is currently 6000 – 7000 MW lower than in a normal situation by the start of November.
Power Supply Is Threatened in Week 45
We have observed that spot prices have increased significantly during October, and already the start of last week we saw peak load prices at about 100 €/MWh, see chart below which includes neighbouring countries as well.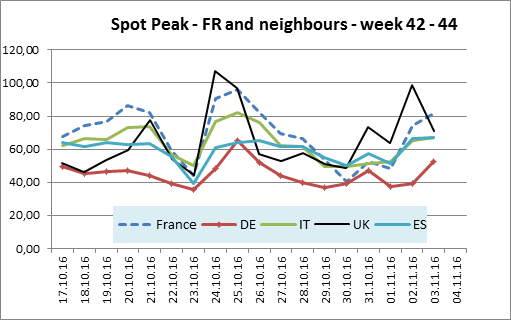 Dramatic Increase in Market Prices for Week Ahead
For Week Ahead (week 45) the power balance in France will be even more strained as temperatures drop 5 deg. C below seasonal normal and peak load consumption increases by about 15 GW since last week. Thus we have seen a dramatic increase in market prices for week Ahead, see chart below which is updated with closing prices from Nov 2nd.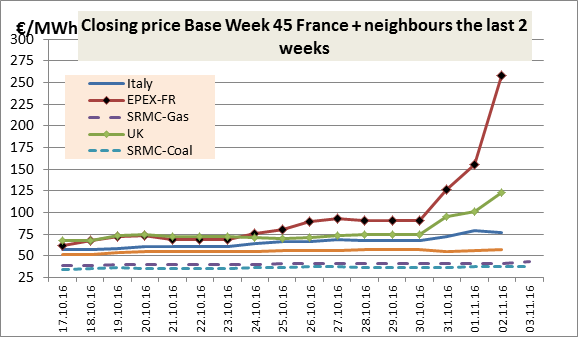 Week Ahead Base closed at 253 €/MWh and Peak at 533 €/MWh . These extreme prices are the highest-ever closing prices for Week Ahead products in France.
A similar extreme market situation occurred in February 2012, when single hours in the spot market ended close to 2000 €/MWh.
In the table below you see peak load numbers for consumption, nuclear capacity , residual production (consumption – nuclear) and weekly peak load prices for last week (43), Week Ahead (week 45) and week 6-2012. The numbers show that the power balance for week 45 is close to week 2012, and 13 GW more strained than last week. So prices for week 45 is difficult to predict, but probably we will see prices close to 2000 €/MWh as we saw during week 6-2012.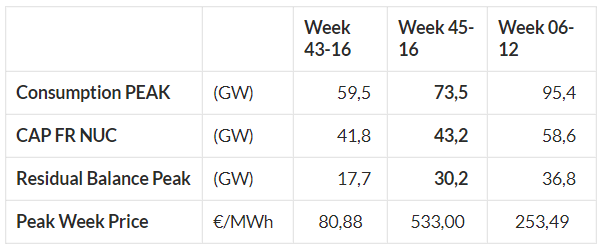 13 GW increased consumption from week 43 has to be covered by increased imports and increased production in France. Production capacity will be hard to increase more than 4 – 5 GW, so imports has to be increased. See chart below showing daily average net imports for France lately. Imports increase these days, but for several borders we see that max. import capacity is already reached. From the UK, Spain and Italy there is no spare import capacity left, and the main possibility for increased imports is from Switzerland. Switzerland, on the other hand, is the dependent on imports from Italy, it will be difficult to reach max. imports from Switzerland as we see it.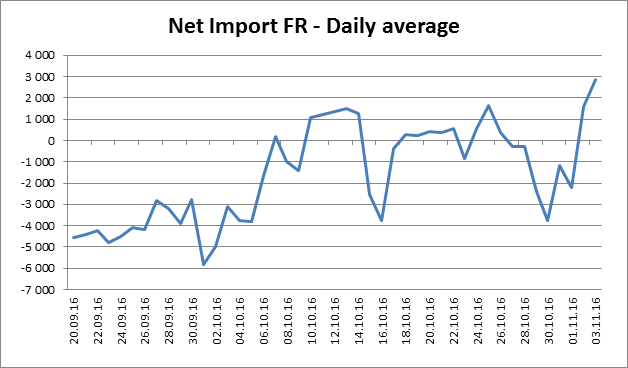 The days to come will be very interesting, we see a very difficult power supply situation to take place in France next week.
The increased consumption will be hard to cover from French domestic production system and imports by current nuclear capacity.
We will follow the situation, and update you on our daily market reports and blog posts.
Eylert Ellefsen